Mobile website and mobile app. At first glance, it may seem there isn't a big difference between those two, but let's dive a little deeper into the topic. Because actually, we are talking about two very important, connected and still a bit different things.
In this article, we are not going to tell you which one works better. After all, it isn't even a question. Instead, you'll understand the main difference between mobile app and responsive website. With this knowledge, you'll be able to choose what is more preferable to you or which one is more appropriate for your business.
But to tell truth you should hold in mind obtaining both responsive website and mobile app, as they serve slightly different purposes.
Features of responsive websites
First of all, we'll talk about websites because they appeared earlier. Also, it's still kinda strange to talk about developing a mobile app while not having at least simple Internet page.
So in theory responsive or mobile website is just like any other – it uses HTML pages that can be accessed with any browser. However, while a usual website is built for viewing on a desktop, first of all, a mobile site is specially designed to appear on smaller screens like mobile phones and tablets.
A responsive site has a special design based on CSS media queries. It allows website's content to fit into any type of screen both 17' laptop or 3' phone. Those queries nonetheless have few imperfections: not only they require more developer's work and attention but also such website most probably would download slower.
By the way, you shouldn't muddle up responsive and adaptive websites. The last one also works well on smaller screens but they are not versatile. Actually, adaptive websites work with certain screen parameters. It is hard to predict all the possible combinations so the responsive website can be a better decision.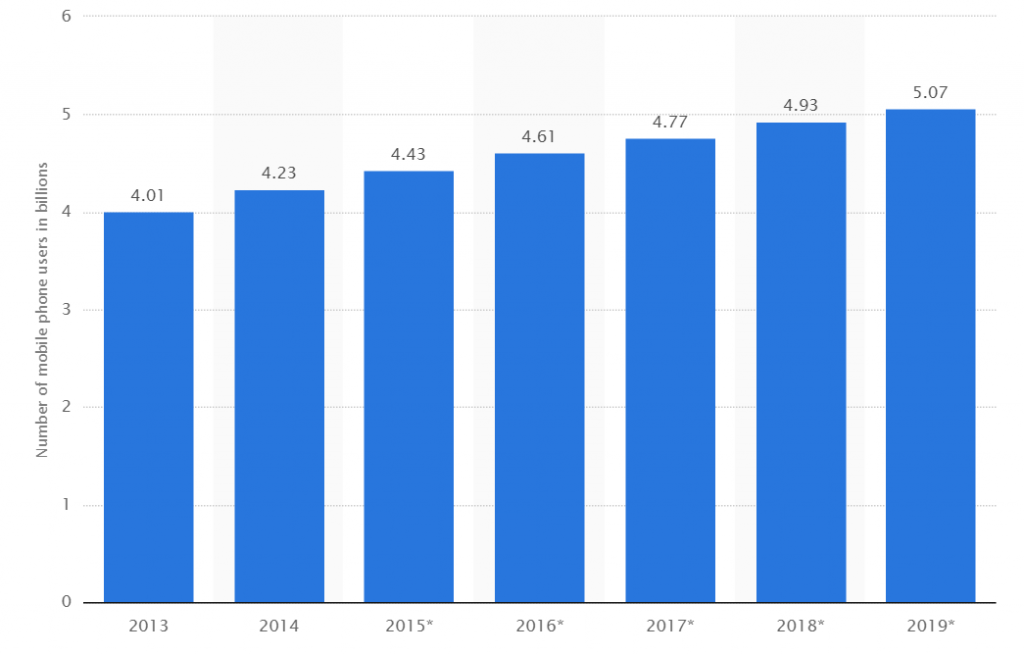 One more popular question: why do you need that responsive website at all? Well, did you know that quantity of mobile phone users is going to increase worldwide from 4.01 in 2013 to 5.07 billion in 2019? (see picture below). In 2016 almost 63% of the Earth' population already owned a mobile phone. During next years this amount will grow in particular thanks to China and India.
Many companies today have responsive websites in order to make their information, goods or services available on various platforms and devices. This is especially crucial if you are looking for new customers.